Yesterday Leandra, aka The Man Repeller, did a
post on why she does not wear makeup
because a lot of people call her out on that fact and some even have the nerve to call her 'ugly.' This got me thinking - what is the fascination with makeup and if people wear it or not? Some days I wear makeup, some days I don't. Does that make me ugly when I don't wear it? Certainly not! (at least I hope) So today, I thought I would share my beauty routine, or lack of depending on your views.
At one point in my life, a few years ago, I actually used foundation every day even though I hated it. Then I thought to myself, why am I putting this junk all over my face if I don't want to? To be fair, it was Chanel, so not exactly junk, but you know what I mean.
My list of makeup and beauty products (that I actually use) is small, and because of that I splurge and buy Chanel most of the time. I do have a drawer full of things I've acquired over the years but barely use any of it. The photos below show the products I use on a daily basis. Click on the product in the image to shop or use the text links below.
Morning
: When I wake up I use
L'Oreal Youth Code Texture Perfector Serum
and
L'Oreal Youth Code Texture Perfector Day/Night Cream
followed by my makeup. I start with
Chanel Joues Contraste Powder Blush (Rose Ecrin)
on my cheeks followed by
Chanel Les 4 Ombres Quadra Eyeshadow (Spices)
, and
CoverGirl LashBlast Clump Crusher Mascara
. I finish up with
Chanel Rouge Coco Shine lipstick
. I love this lipstick because it's pretty much like colored chapstick, I have a few shades: Fiction, Espirit, Deauville, Elise, Bel-Ami and Bonheur. When Summer comes I may add bronzer back into the mix depending on my mood.
[the blush and eyeshadow are my backups since my current ones are almost empty]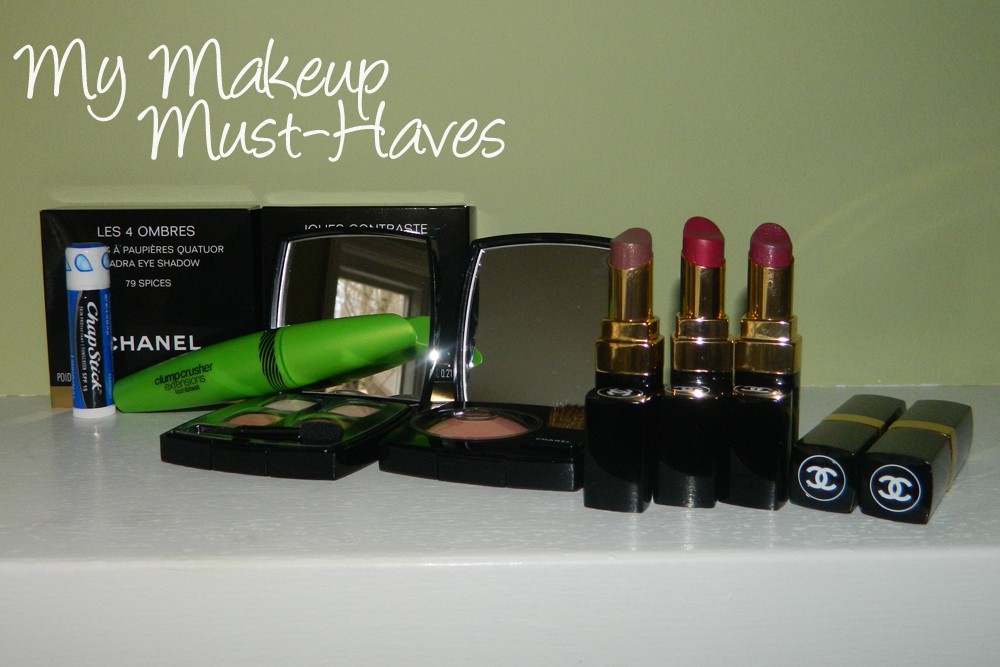 Night
: I remove my makeup with
Caudalie Make-Up Remover Cleansing Water
(with
Shiseido Cotton pads
) and follow that with
L'Oreal Youth Code Texture Perfector Serum
and
L'Oreal Youth Code Texture Perfector Day/Night Cream
just like in the morning. Now would also be the perfect time to use one of the tightening
Strivectin
creams. Nice, simple, effective!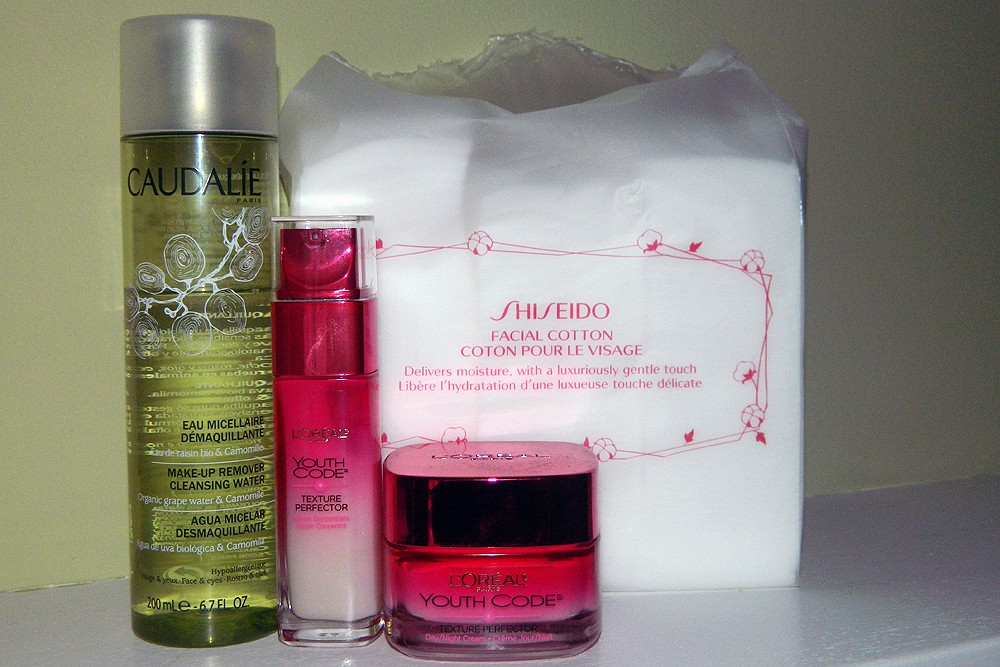 And there you have it, my 5 minute beauty routine, I rarely deviate from this but sometimes I do try something a bit different with my makeup like a different eyeshadow (pretty much the only change).