I haven't done a dream outfit in a while and I figured while I'm away on vacation it's the perfect time since I don't have any outfits! I saw this black dress on
The Outnet
a couple weeks ago and it spoke to me. It is a perfect shape, not too tight but not frumpy. I styled it for Winter, but it would be amazing paired with some sandals come Summertime! I may take the plunge and buy it, but I haven't decided yet (probably won't and then I'll regret it.)
I chose a long sleeve turtleneck bodysuit instead of a regular sweater for the bottom layer to avoid unnecessary bunching because who wants that? To add even more warmth I included a coat, tights and a pair of awesome (PURPLE!) over-the-knee boots. I picked a brighter coat than I would normally wear to offset the darkness of the look. But I bet I would just wear it with a leopard print coat or something crazy like that!
I created this post a couple weeks ago while preparing for vacation and afterwards I HAD to buy the Brian Atwood heels. They were 80% off so I paid $439 instead of 2,195...but in my defense I had some money in PayPal, money from returning a dress from Christmas AND Christmas money from my Grandmother. Unfortunately it was all for nothing, they overwhelmed my short frame and I had to return them.
L'Agence Crepe dress
,
Tibi Stretch-jersey turtleneck bodysuit
,
Brian Atwood Orage suede thigh boots
,
Commando Matte Opaque Tights
,
serefina Layered Moon Coin Necklace
,
Rebecca Minkoff Sam leather-trimmed faux shearling coat
Tis the season of weddings and wedding showers (not that they aren't all year round, but I have a bunch coming up.) So in the spirit of upcoming nuptials here's a look that's perfect for a wedding shower. The formula for a shower look is simple: cute dress + heels + cardigan and you're done! This look is a little more girly than I would usually wear, but it fits the occasion, right?
Click the items in the collage below to shop!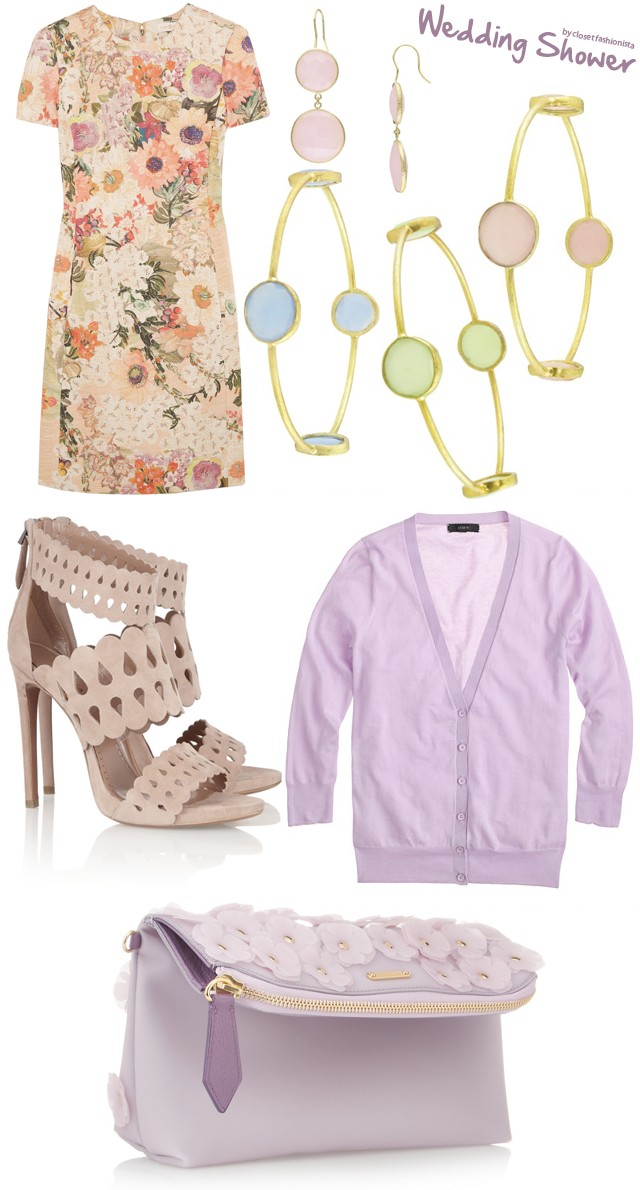 We're getting really close to Christmas so holiday parties are starting to pile up. Below are a few suggestions on what you can wear! You can go dressy, casual or a mix of both. I'm more of a mixer myself dpending on where I'm going.
Dress:
Notte by Marchesa dress
,
Jean-Michel Cazabat pumps
,
Alexander Wang clutch
,
Elizabeth Cole necklace
,
Chanel Cinema nail vernis
,
Chanel Rouge Coco Shine in Espirit
,
Pants:
Alexander Wang pumps
,
Iris & Ink sweater
,
Stella McCartney pants
,
Bijoux Heart earrings
,
Leighton Denny Golden Girl nail polish
Skirt:
Richard Nicoll skirt
,
Iris & Ink top
,
Skaist-Taylor blazer
,
Saint Laurent heels
,
Elizabeth Cole earrings
,
Elizabeth Cole necklace
Since you're here reading my blog I must assume you love fashion. So one of our main questions every time a holiday rolls around is: WHAT DO I WEAR!? Today I'm sharing two different Thanksgiving outfits for inspiration. One is for those of you that get more dressed up on the day. The second is for ladies who go more casual (or, if you're like me, an outfit to wear after you've stuffed yourself with turkey.)
Outfit 1: Dressy
Skirt:
Burberry Prorsum
(on sale at The Outnet!), Top:
Isabel Marant
, Heels:
Alexander Wang
(on sale at The Outnet!), Earrings:
Lauren Wolf Jewelry
, and throw on a blazer or sweater
Outfit 2: Casual
Sweater:
Suno
, Jeans:
Frame Denim
, Pants:
J Brand
(on sale at The Outnet!), Pumps:
Jean-Michel Cazabat
, Earrings:
Alexis Bittar
, Bracelet:
Alexis Bittar
And here are a couple of my past Thanksgiving outfits.
Ever since I got my new Ancient Greek Sandals I've been dreaming up ways to wear them. This week I wore them Grecician style with my new Marc by Marc Jacobs dress (you'll see on Friday!) I decided to style them the same way for this post, with different pieces obviously.
The necklace I chose is definitely a splurge but it was too spot on to not include! The pendants are Greek warriors, the perfect match for the sandals. I also gave two dress options, I think the one on the left is more casual and goes with the sandals better. But, if you feel like dressing them up, option number 2 is great.
Sandals:
Ancient Greek Sandals
($230)
Necklace:
DANNIJO
($305)
Arm Cuff:
Citrine by the Stones
($188)
Leaf Bracelet:
dreamsbythesea
($50 at Etsy)
Left Dress:
Norma Kamali
($240 at The Outnet)
Right Dress:
Alexander Wang
($277 at The Outnet)
Here is what I would love to be wearing for our family picnic on Sunday, unfortunately I don't own any of the pieces. If it were a dressier affair I would love to wear
this shift dress
. But I will come up with an equally great outfit with clothes already in my closet. Unless my Zara order comes in before that, cross your fingers. I'll leave you in suspense for what I got, but you can assume it came from
this post
!
It's Memorial Day so you gotta represent the US in some form, whether its red, white or blue or any combination of them! It might be a liiiiitle cold for shorts, but whatever, we can suck it up (or swap them out for jeans!)
Banjo & Matilda Sweater
Koral Trouser Shorts
(OR
Frame Denim Jeans
)
Ancient Greek Winged Sandals
(OR
Alexander Wang Brogues
)
Anya Hindmarch Shoulder Bag
ASOS Sunglasses
Susan Caplan Earrings
ASOS Watch
Make sure to check out all the Memorial Day sales too! Here are a few that I've gotten emails for so far. Add in the comments if I've missed any!
We are heading in to the time of year where people get the "Winter Blues." They don't want to wear anything but dark colors and hate venturing outside in the freezing cold. To combat this, I suggest wearing happy bright colors or patterns and layering so you can keep your outfits interesting and fun! Even if you wear darker colors (like in this look) if you pair things correctly your outfit will not be boring. Winter is a lot better when you feel good. Today I've made a dream outfit using clothes from
Cruise
.
I started off the look with this gorgeous
M Missoni cardigan
coat as the focal point. Next I added some
bright jacquard pants
from ASOS. The look was finished off with a
Zara sweater
,
Jimmy Choo pumps
and various jewelry.
Coat: M Missoni, Pants: ASOS, Pumps: Jimmy Choo, Sweater: Zara, Jewelry: ASOS