In just a few weeks we will be enjoying my favorite season, Fall! So with that in mind here are a few of the items I'm wishing for. But I will be a good girl and not buy them, okay...maybe one or two. This Fall I'm clearly into jeans, knits, dark colors and prints! But that is how it goes every year. I probably have too many sweaters, but I always want more.
Click the little boxes over the products to shop!
Today I'm on my fourth day in Orlando for a much needed vacation. Here are some pieces I would have taken with me if I had no budget. Click on the products in the image below to shop.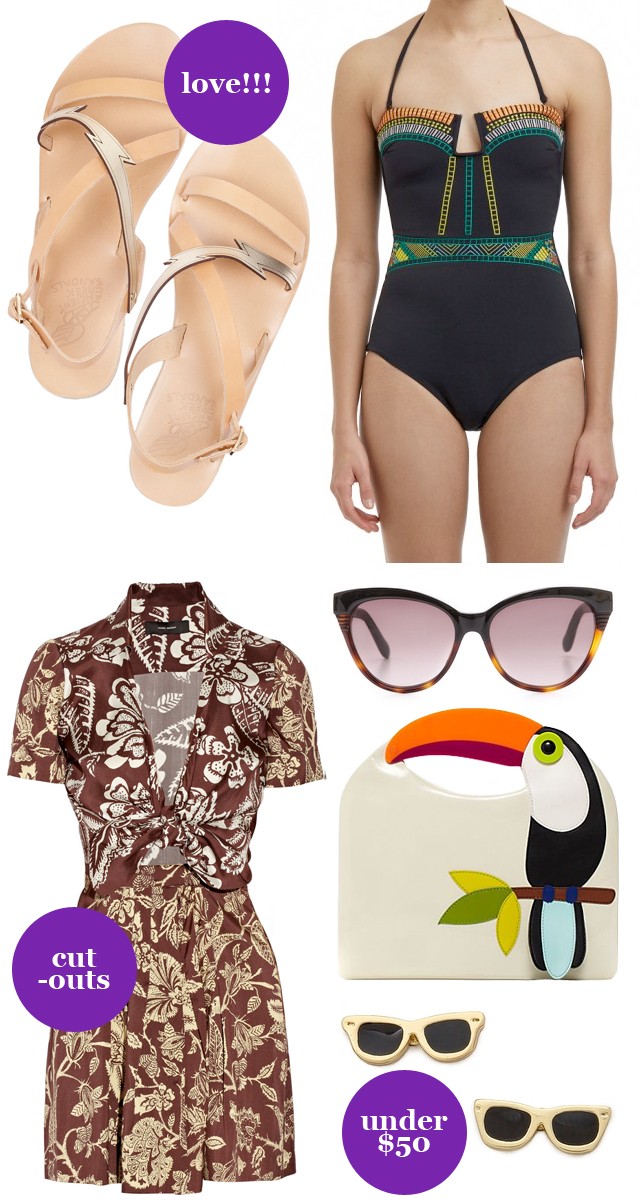 Welcome to part 2 of my
Net-a-Porter End of Season Sale
picks! I posted clothes on Tuesday, so today is dedicated to everything else! Click the images to shop.
More pieces are added to the sale constantly, so be sure to keep checking the "
New to Sale
" page!
The
Net-a-Porter End of Season Sale
started 2 weeks ago and so far I have been good and not purchased anything. But once the sale goes into further reductions I'm not sure how long I can hold out. (This post is pre-scheduled, but I am guessing further reductions will happen today) I'm really hoping that
these Ancient Greek Sandals
go on sale. Below find some of the items waiting in my cart. I always fill it up and slowly things start selling out or going lower in price so I can get something.
More pieces are added to the sale constantly, so be sure to keep checking the "
New to Sale
" page! Click the images below to shop.
Monday was Memorial Day, so Summer has unofficially started! Sadly we still have a month before it officially starts. But now I think it's time to share some beautiful swimsuits by, who else,
We Are Handsome
.
Last week
Tory Burch's Summer collection
made its way to her online store. I love how easy the pieces are, since the collection is so print heavy you don't have to go crazy with accessories, which I am always a fan of. I don't usually do a ton of
floral pieces
, but I really love the
Watercolor Botanical Print
, it's not your typical floral which is why I like it.
P.S. Use code
FRIENDLY
for
25%
off through today. ;)
I am always watching clothes on
eBay
even though I know I won't buy most of them. So, rather than watching them be sold to strangers I thought I would share some of my recent "watches" with you in case you are as in love with them as I am. Click the images to go to the listing. (everything is under $150 at the time of this post)
Can we talk about how GORGEOUS this
Marchesa Voyage dress
is? Maybe it's just the photo, but I am in love. I'm not usually one for maxi dresses, deep v-necks or florals, but it is beautiful. It is also similar to a
Free People dress
I tried on last month, which is a lot more budget friendly.
Below are a few of the items I've added to my wishlists across the web over the past couple of weeks. Sadly I will probably never buy any of them, but it's always fun to look, right? I will hopefully be adding an Indulgems necklace to my closet though, one of the designs is seen below. You can click the products in the image below to shop, exciting right?
Press Release:
IRIS & INK
– THEOUTNET.COM's in-house label – unveils its Spring/ Summer 2014 collection of stylish, versatile separates featuring luxe fabrics and a soft color palette that reference prominent spring trends, starting from February 2014.
Subtle textures add interest to polished, clean silhouettes. The oversized cocoon coat remains a key shape for spring and is updated in lightweight tweed, while suede features throughout the range in bright blues and dusty grays. Raised paisley and croc-effect jacquard sit alongside fine-knit cashmere and brushed silks. Monochrome continues to look sharp for spring, while lemon, peppermint, rose, sky blue and pops of flamingo pink add a fresh feel for the new season. The range balances structured pieces with relaxed silhouettes, creating a sense of tailored ease and effortless sophistication. Highlights include a sports luxe tuxedo pant, a wrap skirt with dramatic ruffle detailing, a suede shirtdress and distressed boyfriend jeans.
The collection ranges from $35 for a slub tee to $525 for a suede shirtdress. Below are some of my favorite pieces as well as their pricing.
All Exclusively Available at THE OUTNET.COM in February
Suede and Leather Tshirt, $330 & Suede and Leather Pencil Skirt, $360
Cashmere Sweater, $168 & Crepe Ruffle Skirt, $120
* I was not paid for posting this, I just wanted to share.