Today I'm on my fourth day in Orlando for a much needed vacation. Here are some pieces I would have taken with me if I had no budget. Click on the products in the image below to shop.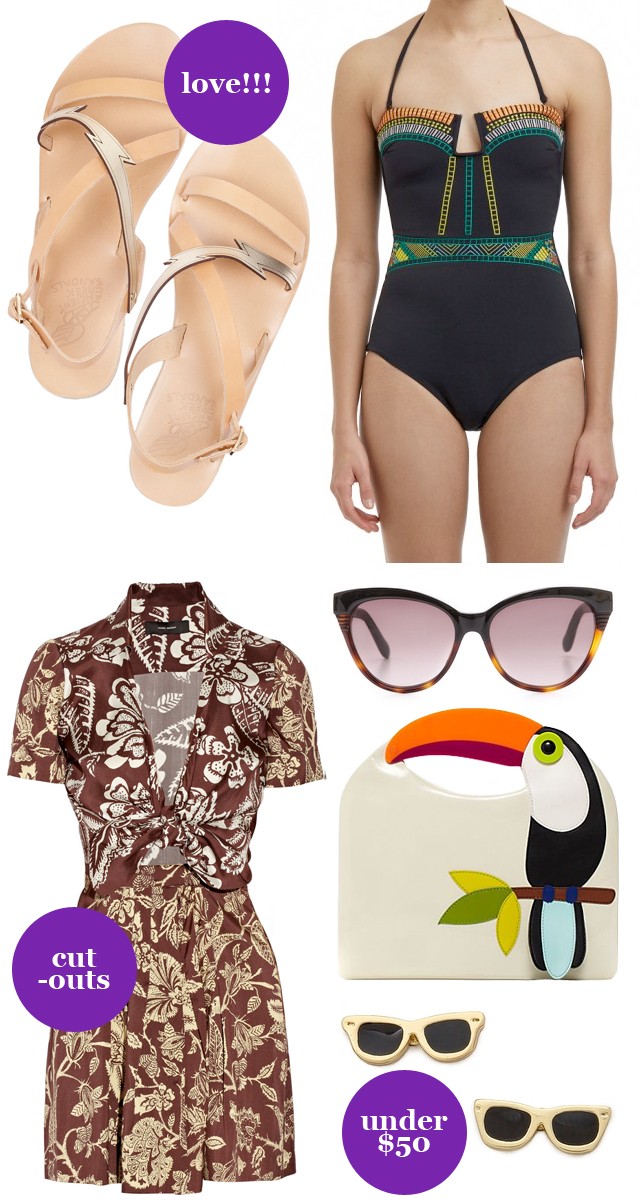 Last Wednesday I was invited to the
Kate Spade Saturday
exclusive preview party in New York. So I dragged my friend Jess from work with me to check out the collection (okay, not dragged, she was very excited)! Kate Spade Saturday launches in March and is a less expensive version of
Kate Spade New York
. The line is geared toward a younger demographic with the pieces coming in bright colors and prints. Thanks to
Fab
, you can shop the collection before it's officially released! They have a
Kate Spade Saturday Pop Up Shop
where you can purchase select pieces.
The prices will be around 50% lower than regular Kate Spade, the most expensive item I saw at the event was $170 for a dress and bag. According to
WWD
, the average price point for Kate Spade Saturday will be $90 for apparel; $55 for eyewear; $40 for fashion accessories; $130 for handbags; $25 for home; $30 for jewelry; $85 for shoes; $45 for small goods; $50 for swimwear; $30 for tech, and $50 for watches.
Some of my favorite pieces from what I saw at the launch are the
B.F.F. Cardi
which can be worn as one color or a mix of black and blue, the
Let Loose Dress
that can be worn 3 ways, and a lot of the bags, accessories and home items.
#TheBestDayEver
!
Be sure to follow
Kate Spade Saturday
on
Twitter
and
Instagram
with ks_saturday! :)
Thanks to Kate Spade for the invite, I had such a fun time at the event!
Photos of me by Jess
All the girls that were left in the end! Source
Day 2 of LuckyFABB was spent shopping in Soho! We started off having brunch at the Crosby Hotel
(where I had an awesome celebrity sighting: GEOFFREY RUSH!!!)
with Lucky editors and Piperlime. Our first stop after brunch was
Piperlime
's brand new store, where we were the first ever shoppers! We continued by stopping at
Aritzia
,
Topshop
,
Kate Spade
and
Calypso St. Barth
. I posted photos from inside the stores on my Facebook because there were too many,
check them out
!
This was my favorite day in New York by far. I met some new friends;
Nikki
,
Ashley
,
Bethany
,
Alexandria
, and more! AND I finally had the pleasure of hanging out with
Mary
in person after following her blog for quite some time, she's awesome!
Top: Made by
Grandma
, Skirt: Made by
Mom
, Sandals:
Seychelles
(DSW) $35, Bag:
Chanel
, Bracelets c/o
31 Bits
, Watch:
Michael Kors
, Necklace:
Vanessa Mooney
giveaway
, Sunglasses:
Marc by Marc Jacobs
(
Shopbop
)
gift card
UPDATE:
Yes, this is the same fabric as yesterday's skirt. I had my mom make another with our leftover fabric. This time with the scalloped edge. (we wanted that on the other skirt but it wasn't working out properly)
We were lucky enough to receive gift cards for Piperlime and Aritzia, so I picked up a pair of
Genetic Denim aztec print jeans
at Piperlime and some
Maison Scotch printed pants
and T.Babaton cashmere sweater at Aritzia!
Photos by
Lydia
Yesterday I felt like Cinderella, but not because I found my Prince Charming; I was so excited to head out to NYC but ended up locked in a tower. Long story short *
I couldn't get to the city so I missed out on two amazing events. The Brahmin Fall Handbag preview and the Garance Doré for Kate Spade cocktail party, both of which I was really looking forward to for over a week. Unfortunately I didn't have a fairy godmother to save me and get me to the ball. I didn't want my outfit to go to waste so I took some photos so the day wouldn't be a total waste. (The jacket was for when it got a liiiittle chilly at night, wasn't sure I would need it, but always be prepared!)
Dress:
Marc by Marc Jacobs
gift
, Heels:
MICHAEL Michael Kors
(DSW) $35, Bag c/o
Brahmin
& VOGUE, Jacket:
Theyskens' Theory
(Nordstrom Rack) $180, Sunglasses:
Marc by Marc Jacobs
(
Shopbop
)
gift card,
Bracelets:
Burlington Coat Factory
$7, Necklaces:
gift
,
giveaway
,
giveaway,
Watch:
Michael Kors
*I got ready and headed to the train station with a slight suspicion that I might not get parking, but I had always been able to find a space before so I wasn't too concerned. Well I should have been. The lot was completely full, except for the permit spaces. So I missed the train and came home. There wasn't enough time to call my mom to have her get me for the next one and she wouldn't have been able to pick me up when I got back so there was no way to get home.
I decided to give it one more shot and tried again for the last possible train to get me there in time, but there still was no parking. Dream over. No fun events for Megan...and now I was also embarrassed because I replied yes to the events and had to email again to let them know I wouldn't be able to make it. AND I made a big deal about going to them on Twitter, here and Facebook.... *sigh* So I felt like a complete idiot. Needless to say there were some tears, and I NEVER cry. But then I ordered a medium pepperoni pizza and Cinna Stix from Dominos to cheer up (light on the cheese and sauce, double pepperoni)
UPDATE: I would have called a cab but 1. I am terrified of them, because of people... (social phobia, it's a miracle that I was even going to the city alone) and 2. Whenever my roommate calls them they take FOREVER to get to our house, because they get lost, so I would still miss the train ;)