This past weekend I went to my college best friend's wedding! I hadn't seen her since we graduated 4 years ago because she lives quite a while from me and we could never connect. It was great to see her on her special day and get to share it with her and was like no time had passed! We went right back to making crazy faces at each other from across the room. She and her fiance got married in the
English Garden at Wickham Park
and, since we were in nature, I thought it was the perfect day to wear the Anthropologie dress Lydia got me for my birthday last year after I saw it in a consignment store. I'm sad it's taken me this long to actually wear it, but I wanted it's first outing to be perfect! It was only fitting that Lydia take my photos for me, so I had her take them a couple weeks before the wedding. It got some compliments, so I think I made the right choice!
It was a small wedding, less than 50 people, but I only knew one other person apart from my friend and her fiance, and that was the maid of honor. I also went to school with her and it was fun to catch up with her too! Although I stalk everyone on Facebook frequently, it's more fun to chat in person. She even got me on the dance floor a few times which, if you know me, is a major feat! We were the crazy girls slow dancing together with all the couples.
Dress:
"Artist Rendering" Dress by Odille
(
Anthropologie
), Heels:
Lanvin
(
Roundabout Resale
), Bag:
Marc by Marc Jacobs
(
Net-A-Porter
), Necklace:
House of Harlow
c/o
South Moon Under
, Watch:
Marc by Marc Jacobs
(
Gilt
), Bracelets:
Ten Thousand Villages
Continuing with the dresses theme from yesterday, let's discuss what to wear to a wedding. My cousin is getting married and while I already have my dress I thought it would be fun to show you guys some outfits for various wedding scenarios. You can get all of these
dresses online by Review Australia
.
Review has many dress options available so everyone can find a piece perfect for any occasion. Whether you need a casual slip dress, knit, maxi or even a lace dress, they have you covered! Their prices are reasonable and range from $50 (on sale) to $319.99 (not on sale) so you're sure to find a piece within your budget.
Review Australia is perfect for the girl who loves fun, feminine and flirty fashion. They have been in business since 1985, so they know what will look good on a woman, definitely a plus when you're looking for a well-made, well-fitting piece.
I'm always a fan of classic pieces with a twist and that's exactly what Review offers. Whether it's an adorable added belt or an interesting seam, almost all the dresses have something to surprise.
Our first look features this Donatella Dress, one of their new arrivals and my favorite piece. This would be a lovely choice for a dressy, night-time wedding. Th dark floral, short sleeves and fabric belt make it a really unique piece that's sure to stun everyone.
Next up we have this beautiful maxi dress which we can dress up or down. I've created a look that you can wear for a nice outdoor/beach wedding. Pair it with a cardigan and some dressy flat sandals and you have the perfect outfit.
These are just two options for wedding looks. With over 100 dresses to choose from, you can come up with an outfit for any of your upcoming Summer weddings! Make sure to check out all the other pieces they have to offer to help complete your look. Both pieces of outerwear featured above are also from Review.
*Disclosure: I received payment in exchange for this post, but all opinions are my own.
This weekend I went to a surprise wedding shower for my cousin, so it was the perfect time to wear my new Carven Paris map print dress! I went very matchy-matchy with the look and painted my nails red, wore a purple stoned necklace and my shoes also had a bit of the red in them.
Dress:
Carven
(
Yoox
), Sweater:
Urban Outfitters
, Sandals:
Manolo Blahnik
(Roundabout Resale), Purse:
Marc by Marc Jacobs
(
Saks Friends & Family Sale
), Necklace:
Acanthus Jewelry
(giveaway), Bracelet:
Crystal Vibrations Jewelry
(use code
BBarrow1002
for 10% off), Watch:
Skagen
(
Rue La La
), Rings: vintage,
Brilliant Imports
& Mom's
Tis the season of weddings and wedding showers (not that they aren't all year round, but I have a bunch coming up.) So in the spirit of upcoming nuptials here's a look that's perfect for a wedding shower. The formula for a shower look is simple: cute dress + heels + cardigan and you're done! This look is a little more girly than I would usually wear, but it fits the occasion, right?
Click the items in the collage below to shop!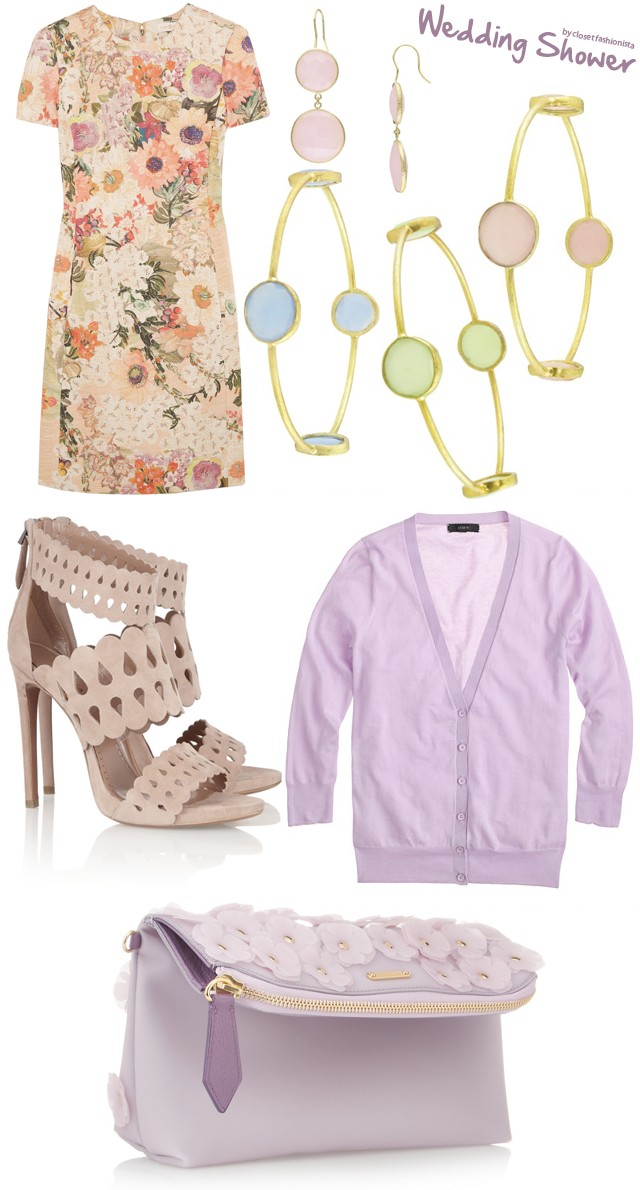 Saturday was my cousin Jill's wedding and it was so fun! The ceremony was beautiful and then we danced the night away at the reception. Except for me...I don't dance, but I can do
the Twist
. I did dance to Backstreet Boys and Spice Girls but most of the other songs were new, which if you know me, you know I hate new stuff. It was so great seeing my cousins in Ohio, we don't get to see them that often, I just wish we had more time...
I'm not going to post pictures of other people, to respect their privacy, so here are some photos of me! And, if you could spare a few minutes,
please "heart" my video for a contest
!
Dress:
Burberry London
splurge
, Wedges:
Burberry
(
The Outnet
) $80, Purse:
Marc by Marc Jacobs
(
net-a-porter
)
gift card
, Jewelry:
Acanthus Gemma necklace
(
giveaway win
), c/o
OASAP watch
, assorted mixed metal bangles
Me, my aunt and the lovely couple in the background
It was so hot that we stood over vents to keep cool (me & my cousin)
As you read this I am in the car on the way to Ohio (for 10+ hours....oy) to attend my cousin's wedding tomorrow afternoon!! She is the first in our family to get married and I'm so happy for her! Ever since they let us know it would be a summer wedding I was trying to decide what to wear, as all girls do. This is my first wedding as an adult (the last wedding I attended to was my Aunt's when I was 7). It's so hard to decide what to wear to a wedding, you don't want to be over or under-dressed, so the time of year and location is a big factor.
Originally I was going to wear the Oasis dress I
wore to High Tea in London
last summer, then it changed to the
Edun
dress I wore at the
opening of the Harry Potter Studio Tour in March
. But then the
net-a-porter sale
came and I FINALLY had the perfect dress, by
Burberry London
! I decided to dress it down a bit with espadrilles because it is a daytime wedding, I also decided on the wedges so my feet don't die...
Here is what I will be wearing, you'll get to see the full outfit when I return next week (and maybe some candid shots if I can grab them from my uncle's camera before we leave)! What do you think? Did I do a good job deciding what to wear? And don't tell me no because I've changed my mind far too many times!
Dress:
Burberry London
splurge...
Wedges:
Burberry
(The Outnet Clearance Sale) $80
Purse:
Marc by Marc Jacobs
(net-a-porter end of season sale 2010)
gift card
Jewelry:
Acanthus Gemma necklace
(
giveaway win
), c/o
OASAP watch
, assorted mixed metal bangles (
shown
)
(An early) Congratulations to Jill and Jon!!! Love you guys! :)
My Best Friend's Wedding Logo via Amazon and edited by me
P.S. I made a really quick video preview of the outfit using
VideofyMe's iPhone App
, watch below and please "heart" it for me! (I'm in a competition)