Tis the season of weddings and wedding showers (not that they aren't all year round, but I have a bunch coming up.) So in the spirit of upcoming nuptials here's a look that's perfect for a wedding shower. The formula for a shower look is simple: cute dress + heels + cardigan and you're done! This look is a little more girly than I would usually wear, but it fits the occasion, right?
Click the items in the collage below to shop!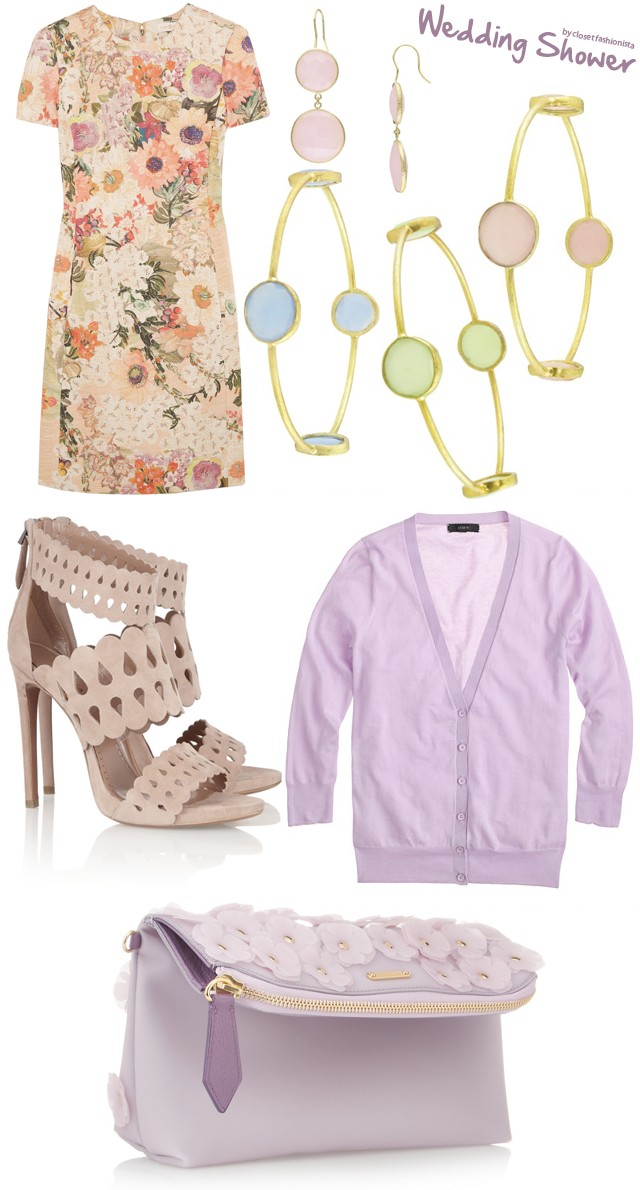 We're getting really close to Christmas so holiday parties are starting to pile up. Below are a few suggestions on what you can wear! You can go dressy, casual or a mix of both. I'm more of a mixer myself dpending on where I'm going.
Dress:
Notte by Marchesa dress
,
Jean-Michel Cazabat pumps
,
Alexander Wang clutch
,
Elizabeth Cole necklace
,
Chanel Cinema nail vernis
,
Chanel Rouge Coco Shine in Espirit
,
Pants:
Alexander Wang pumps
,
Iris & Ink sweater
,
Stella McCartney pants
,
Bijoux Heart earrings
,
Leighton Denny Golden Girl nail polish
Skirt:
Richard Nicoll skirt
,
Iris & Ink top
,
Skaist-Taylor blazer
,
Saint Laurent heels
,
Elizabeth Cole earrings
,
Elizabeth Cole necklace
Since you're here reading my blog I must assume you love fashion. So one of our main questions every time a holiday rolls around is: WHAT DO I WEAR!? Today I'm sharing two different Thanksgiving outfits for inspiration. One is for those of you that get more dressed up on the day. The second is for ladies who go more casual (or, if you're like me, an outfit to wear after you've stuffed yourself with turkey.)
Outfit 1: Dressy
Skirt:
Burberry Prorsum
(on sale at The Outnet!), Top:
Isabel Marant
, Heels:
Alexander Wang
(on sale at The Outnet!), Earrings:
Lauren Wolf Jewelry
, and throw on a blazer or sweater
Outfit 2: Casual
Sweater:
Suno
, Jeans:
Frame Denim
, Pants:
J Brand
(on sale at The Outnet!), Pumps:
Jean-Michel Cazabat
, Earrings:
Alexis Bittar
, Bracelet:
Alexis Bittar
And here are a couple of my past Thanksgiving outfits.
I'm hopeful that this rainy weather is finally coming to an end (although there is rain in the forecast this week) so I've decided to round up some of my favorite swimsuits! I don't really "need" any new ones, but I still desperately want a We Are Handsome one-piece...maybe if the one below goes a teeny bit more on sale. Let's start off with one-pieces!
Next up, bikini's of course!
And third, the mixes...monokinis, tankinis, vintage style, etc.
P.S. I confess: I bought the Marc Jacobs bikini! It was only $48 instead of $170 AND is purple AND is reversible, how could I resist?! (I had wanted another version of this suit last year, but it's sold out now.
Seasons come and go and so do the seasonal fashion trends. It is difficult to continuously keep up with all the different new styles, hypes and ins and outs - especially when you have to be careful with your money. So it is important to have some timeless fashion pieces hanging in your closet that you can mix and match with anything that you like. In the end, a few enduring wardrobe essentials go a long way. Here is a list of staples for you.
Purchase a timeless timepiece
A timeless timepiece might sound like a little bit of a contradiction, but a watch is one of the very few items that bucks all talk of seasonal trends. Pick a watch that will work with any outfit, and that reflects your personality and personal style.
Get inspired by the motorcycle look
Bomber jackets and biker jackets have never gone out of fashion. They started gaining attention in the early fifties, where actors such as Marlon Brando and James Dean wore them on the big screen, and ever since they have been a popular style staple for both women and men. They will complete any summer outfit, and they are great for the autumn too! You can purchase
some beautiful and affordable biker jackets from New look
.
Complete your collection of black-and-white basics
By black-and-white basics I mean almost all everyday clothing items, as these shades are easy to combine with any outfit, and you will always look on-point and classy in them. My top choice would be black pants, preferably skinny jeans or wool blend trousers. Black-and-white tank tops too can be worn with, and under, almost any outfit that you choose to wear. If your black-and-white basics game is on trend, then you will be able to complete any look!
Buy a stylish wallet that fits your style
As read on
MarieClaire.com
, think of your wallet as a direct reflection of how you manage your lifestyle. Seeing as you use your wallet on multiple occasions a day, in locations such as stores, restaurants and public transport, having a purse that you feel confident about will make you feel great all day long.
Get yourself a LBD
Many women and fashion designers think of a little black dress as the most essential piece in a woman's wardrobe. It is mentioned so often in books, magazines and on runway interviews. The little black cocktail dress even has its own abbreviation and had many songs written about it. Let style icons like Edith Piaf and Coco Chanel inspire you and find a gorgeous LBD for yourself!
---
This is a guest post; the copy was written by an outside source but I provided imagery. I was compensated in exchange for posting, but it met my standards.
Are there some gaps in your wardrobe this season? I hope so, because with the number of incredibly exciting trends hitting the catwalks, you have some catching up to do. From sheer-panelled dresses prompting a bit of a 'side bum' craze, to eyebrow-raising cut-out numbers, the stars are daring to bare almost all in the name of fashion with some of the most exciting trends we've seen for some time.
You'll be glad to hear that Summer 2013 is not entirely about naked flesh though. In fact, unless you're particularly body confident and have spent some hardcore hours at the gym this winter, I would advise against going too far down this route. Thankfully, there are also some very exciting and super-wearable trends around too, which you can embrace wholeheartedly with just a few essential pieces.
1.
A jazzy jacket
- My, my - this season brings us such a wealth of choice in the jacket department! From bold biker jackets to colourful stripes, this season you just need a smart, well-fitting jacket in your wardrobe to finish off any outfit. Lightweight jackets are perfect for the British summer, and if you make a good quality purchase, it will be your best friend over the coming months.
2.
A teeny tiny bag
- In a swift U-turn from the bucket bags and satchels of recent years, this season's must-have accessory is the mini bag - a teeny-tiny slip of a bag, barely big enough for your
iPhone
. Naturally, it's not the last word in practicality, but if you want to stay on-trend you'll no doubt get used to carrying less and less junk around with you – who needs excess baggage anyway?
3.
A stripy dress
- Stripes are here, and they are chunky. No pinstripes for us, thank you very much. The stripes of 2013 are big, bold and colourful. Opt for a nautical air with stripes in navy/white or red/white, or go for something altogether more tropical with a mixture of chunky pastel stripes. The cut of the dress doesn't matter as there's something for everyone this season. So whether you prefer maxi elegance or bold bodycon, get it with stripes & you'll be bang on trend.
4.
A lacy top
- Feminine fabrics are so hot right now, and the resurgence in popularity of lace garments is a very welcome one for the girly girls. Add one really gorgeous lace top to your wardrobe this summer, and you'll be wearing it at both work and play all season. Dress it up with a midi-skirt and ballet flats for the office, or wear it out with
super-short Denim Shorts
and pumps for a chilled-out beach babe look.
5.
A pair of flatforms
- Normally our feet are often put through several sorts of pain in order to keep up with the trends, but this year the stylists have given our poor tootsies a break with the introduction of the 'flatform'. These chunky, funky shoes are a godsend for women who are sick of ridiculously high heels but who can't bear the lack of height given by flats. Flatforms marry the comfort of flats with the height of platforms and encourage better posture, too. Style with extra comfort - what more could you want?
---
This is a guest post; the copy was written by an outside source but I provided imagery. I was compensated in exchange for posting, but it met my standards.
Here is what I would love to be wearing for our family picnic on Sunday, unfortunately I don't own any of the pieces. If it were a dressier affair I would love to wear
this shift dress
. But I will come up with an equally great outfit with clothes already in my closet. Unless my Zara order comes in before that, cross your fingers. I'll leave you in suspense for what I got, but you can assume it came from
this post
!
It's Memorial Day so you gotta represent the US in some form, whether its red, white or blue or any combination of them! It might be a liiiiitle cold for shorts, but whatever, we can suck it up (or swap them out for jeans!)
Banjo & Matilda Sweater
Koral Trouser Shorts
(OR
Frame Denim Jeans
)
Ancient Greek Winged Sandals
(OR
Alexander Wang Brogues
)
Anya Hindmarch Shoulder Bag
ASOS Sunglasses
Susan Caplan Earrings
ASOS Watch
Make sure to check out all the Memorial Day sales too! Here are a few that I've gotten emails for so far. Add in the comments if I've missed any!
Whether you are enjoying the waning days of summer by relaxing with friends, laying out by the pool, or enjoying cocktails into the evening hours,
NET-A-PORTER
has got the outfit to make your holiday and celebrations ultra chic. To get you prepared for Labor Day they have made three special sections to help you say goodbye to summer in style! I've chosen my favorite pieces from each section, what do you like?! [links to shop each section are below the images]
Off-duty:
while enjoying downtime with loved ones, it's all about effortless style – pair cut-offs and a chic slouchy sweater.
Poolside:
create a splash with the perfect poolside pairing – a vibrant bikini with sleek sunglasses.
Cocktails:
after dark chic calls for boho luxe looks – team bold patterns and embellishment with sleek sandals.
As you read this I am in the car on the way to Ohio (for 10+ hours....oy) to attend my cousin's wedding tomorrow afternoon!! She is the first in our family to get married and I'm so happy for her! Ever since they let us know it would be a summer wedding I was trying to decide what to wear, as all girls do. This is my first wedding as an adult (the last wedding I attended to was my Aunt's when I was 7). It's so hard to decide what to wear to a wedding, you don't want to be over or under-dressed, so the time of year and location is a big factor.
Originally I was going to wear the Oasis dress I
wore to High Tea in London
last summer, then it changed to the
Edun
dress I wore at the
opening of the Harry Potter Studio Tour in March
. But then the
net-a-porter sale
came and I FINALLY had the perfect dress, by
Burberry London
! I decided to dress it down a bit with espadrilles because it is a daytime wedding, I also decided on the wedges so my feet don't die...
Here is what I will be wearing, you'll get to see the full outfit when I return next week (and maybe some candid shots if I can grab them from my uncle's camera before we leave)! What do you think? Did I do a good job deciding what to wear? And don't tell me no because I've changed my mind far too many times!
Dress:
Burberry London
splurge...
Wedges:
Burberry
(The Outnet Clearance Sale) $80
Purse:
Marc by Marc Jacobs
(net-a-porter end of season sale 2010)
gift card
Jewelry:
Acanthus Gemma necklace
(
giveaway win
), c/o
OASAP watch
, assorted mixed metal bangles (
shown
)
(An early) Congratulations to Jill and Jon!!! Love you guys! :)
My Best Friend's Wedding Logo via Amazon and edited by me
P.S. I made a really quick video preview of the outfit using
VideofyMe's iPhone App
, watch below and please "heart" it for me! (I'm in a competition)
I was recently introduced to another awesome high fashion store,
Matches Fashion
; they are online and have 4 stores around the UK! Matches carries a wide variety of designers from Alexander McQueen to Mary Katrantzou and even vintage Chanel! They also have items exclusive to them which you can
check out here
. I decided to put together an outfit with pieces from the store. Now the question is, who is going to buy everything for me?!
Tee -
Stella McCartney
Pants -
Rag & Bone
Boots -
Acne 'Pistol'
Bag -
Balenciaga 'City'
Necklace -
Mulberry
Ring -
Yves Saint Laurent 'Arty'
P.S. How awesome is this
Houses of Parliament swimsuit
by We are Handsome that is exclusive to the store...I want it!!!
Yesterday I showed a few ways to style a one-piece for the beach, but today is all about rocking the bikini. Some people say you have to be rail thin to wear a bikini, but I am of the mindset that if you have the confidence you should go for it! But you do need to keep in mind your body type, if you are really curvy I would stay away from the string bikini and go for a more supportive version. Below are a few examples of the different types of bikinis you can try!
A simple string bikini is one of the more popular types. This one comes complete with a fun parrot print, and a nice low price tag! For this bikini I opted for a crochet cover up so you could see peeks of the bikini underneath.
You can't go wrong with a classic black bikini! I paired this one with acute leopard print sundress for the perfect boardwalk look! You can even switch the sandals for heeled ones and go out on the town!
A pretty floral bikini is another great option. I like this bikini because it is a more unique floral and not the bright Hawaiian style you always find on the beach. For this suit I found a solid coverup that pulled one of the colors out of the print.
[I must be on a Zimmermann kick, but what can I say, it's nice stuff!]
One of the most important things to worry about when going on a beach vacation is what type of bathing suit(s) to bring. I used to be a bikini girl, but this year I am more into one pieces. I don't know whether I am more self conscious about my body or if I've grown out of the bikini stage a bit earlier than most girls my age. I still love them, and packed a few for this vacation, but I feel more comfortable in a nice one piece. This isn't to say that one pieces have to be totally covered, you can still be sexy in a one-piece and today's post will hopefully show you how to do that!
Below I've illustrated a few different styles of bathing suits and how to wear them. What's great about one pieces is that you don't really need to have anything to cover up your top because the suit can act as a bodysuit. (Obviously you don't need to wear a top with a bikini either, but if you want to go shopping after the beach it's best to have coverage)
Here is one of my swimsuits, a perfect Michael by Michael Kors animal print suit! It is great for any body type and also comes in plus sizes. It covers you and shows just enough cleavage, I'm obsessed with it.
This suit by Miu Miu is GORGEOUS, it's classy and covered but you get some extra skin with the deep v-neck. I think pairing it with cute printed shorts and bright sandals would be a really cute beach and boardwalk outfit!
Lastly you could opt for a fun printed swimsuit like this one from We Are Handsome. I am addicted to their quirky swimsuit designs, I've had to resist buying the
peacock one
in the net-a-porter sale because I don't need another suit.
Which is your favorite!?
Stay tuned for the bikini edition of this post tomorrow!
This week I am posting all about Beach getaways! Why do you ask? Well if you missed Friday's post, I am in Myrtle Beach with my family! To start off the week let's talk about what to pack for your beach vacation!
Basic Clothes
: When packing you want to pack as light as possible, so bringing basics is the way to go. Bring a couple skirts, shorts (denim & printed/solid) and pairs of pants (jeans & trousers.) Then find tops that mix and match.
Statement Pieces:
You also want some statement pieces to spice up the basics you brought. This can be anything from jewelry to crazy printed pieces.
Extras:
I always plan on bringing a few extra pieces that don't necessarily go with the rest of my clothes as "just in case" pieces. Make sure to have an umbrella in case it rains. Always be prepared!
Below is a sampling of all those types of clothes:
Bathing Suits
: Come back later this week!
Makeup:
I would go light on the makeup since you'll be on the beach most of the time. I will be taking my trusty Chanel bronzer, blush, mascara and Rouge Coco Shine and some eyeshadow for when we aren't on the beach. No concealer needed for this trip! You also want to have a moisturizer for morning and night.
[I highly recommend Rouge Coco Shine, it is expensive but I am addicted. I am NOT a lipstick girl, so what I love about this is it is more like a tinted chapstick, it goes on so smooth you forget you have it on]
Check back tomorrow for beach bag must haves!